And of course with all
my whistleblowing of the Bible around here lately
, Jesus has struck me immobile via a stomach kerfuffle. Because that's how it works, right? Certainly, it couldn't be the guacamole I ate last night that had been sitting uncovered in the back of my fridge...
Anyway, enough about all that, mostly because right now I have to take a bathroom break...
Here. Watch this video. I'll be back in a few minutes...
Well, that was fun. And I'm not talkin' about the video! Ew. And while my bowel movements are disgusting (and by "disgusting" I mean "the rainbows aren't as bright as usual"),
this story is really gross
. According to NBC4, a man got BEAT TO DEATH last night by a few DC9 patrons after throwing a brick through the club's window in retaliation of having been kicked out of then face-controlled (in this case, denied re-entry).
Um, WHAT. THE. F*CK. I don't get it. And while I'll get to the whole beating-someone-to-death thing in a minute, let's start at the beginning because this whole story is one big clusterf*ck of endless Gary Busey fists.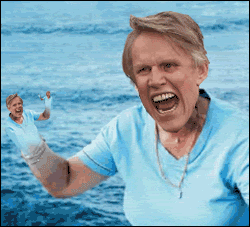 It's scary and I don't understand.
1. DC9 has face control?


Look, I've dealt with face control before. I used to live in Moscow. It was necessary there to keep riff-raff like me out of the same space the oligarchs came to watch DirectTV with their mistresses and mini baby giraffes. But face control in DC is just retarded, especially at a place like DC9. Last time I was there (which I admit was well over six months ago), it was half empty. It also smelled like poop...and not the rainbow kind.
As it turns out, according to an anonymous commenter, the man had previously been in DC9 but was then kicked out due to drunken dickishness. The commenter said the man was only face-controlled when he tried to re-enter the club.
2. Someone gets so mad that they can't get into a mundane DC bar, so he throws a brick through the window?

Clearly, this person has no clue what fun is. I can tell you most certainly, it doesn't happen all that often after dark in DC and it certainly doesn't involve throwing bricks through windows of smell clubs. Seriously, get a new hobby. Philatelist > felon. Although, in this case, I guess it's too late for the vandal...
3. And we're allegedly killing now because someone acted like a dick and broke a window?

If this did happen the way the police say (the five suspects who have been arrested deny they beat anyone), it's like punching a toddler in the face for drawing on the walls. Sure, the toddler is at fault for being petulant (assuming he knows better), but there's a better way to go about teaching someone a lesson than through corporal punishment. Take away his crayons. Or in the case of the DC9 vandal, call the police. (That is, I guess, if they didn't set you up, which is the implication here.) There's a million of them around U Street now anyway since
that other senseless killing happened
.
4. And the police are charging people with murder before the medical examiner even rules the guy murdered?

We're all f*cked. Seriously, for a city full of people
who so often think they're smarter than the rest of America
, we sure do act dumb. It doesn't take a graduate degree to learn when enough's enough.