I've never really been scared to check my mail before. The Unabomber? Psshah. Anthrax? I could take it. But this?
DC seriously hates me. (I'm only 28! I'm not retired!) Sure, it's true that I am getting my first permanent wrinkles around the eyes, but it's nothing a few quick injections of Botox can't fix! (I'm not ready for this! I don't like getting up when it's still dark! I don't even really like breakfast!) OK, I get it. I'm a bit of a curmudgeon already. And yes, I'll concede that I do sometimes have the fashion aesthetics of a Golden Girl. (But Blanche's sh*t was tight! They were young at heart!) And arguably, while I may be old (as hell) at heart, unlike that saucy bitch Sofia, I'm for all intents and purposes still physically young! (I swear!)
Ahh...but maybe aging isn't so bad. I mean, there's the early bird specials and discounted movie tickets. Also, it's pretty awesome that when you pass a certain age suddenly all of your offensive, off-color remarks become endearing or "full of wisdom." You can start mooching off your kids in retaliation. You can also start stealing silverware from restaurants (hi grandma!). Hmmm...maybe getting old isn't so bad after all, despite what all of American pop culture tells me. In fact, you know what? After several seconds of deep thought, I've decided that I'll take it. If I can start wearing a diaper and pee whenever I want, wherever I am, then all I have to say is, let's f*cking do this! Let's get old together DC!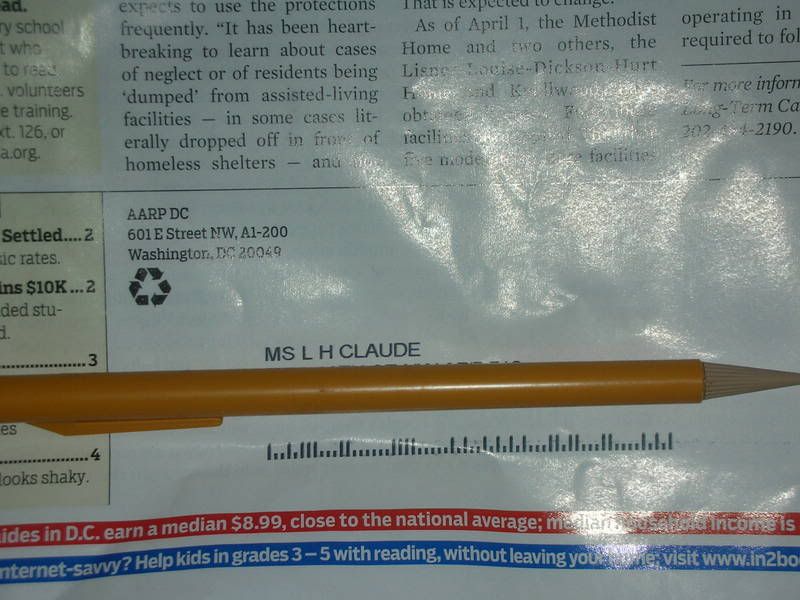 But wait. What the hell is that? Who's Ms. LH Claude? Goddamnsonofabitch! Just when I began to get used to the idea of acting 85 at the age of 28, just when I decided to accept my fate, I learn that this sweet, informative AARP newsletter isn't even addressed to me. It's for Ms. Claude. Sweet, little, sassy Ms. Claude. Maybe we can hit up the Denny's sometime soon? God, I hope she's in the demographic that reads this blog.