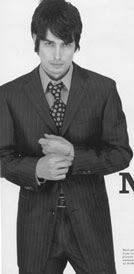 I want more men in DC...um, to have attitudes about clothing like the friend who earlier sent me this:
I just bought a suit and I'm so excited about it, I want to tell everyone:

http://www.oliverspencer.co.uk/oliverspencer.html

It's the one the guy on the left is wearing.

It was like 50% off. I am so happy. This is the best of day of 2008!
YES! Not only is it refreshing to know a guy so excited about fashion, but the fact that he's this excited over a suit is even better. Now (full disclosure), this snazzy suit-wearing friend of mine lives in NYC (of course...), but I believe many male DCers should take a cue from him. Suits don't have to be 5 sizes too big, pleated, poly-blended and ugly. No, they can be quite hot (as exhibited to your right) even if you're not a male model (ahem, who I met in the Bahamas, but I digress). And, let me now speak DC's language: Nice looking suits can be fairly priced, as my friend's 50 percent off testament shows.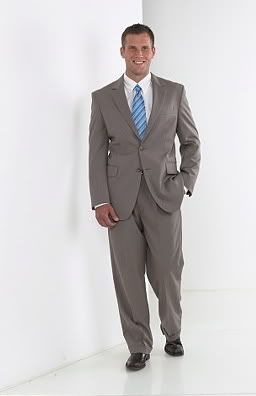 So please, if any
dishabille
DC dude somehow happens to be reading this, despite that I spend most of my blogging time insulting you and your female compatriots, please,
please
click on the
Oliver Spencer link
, view the suit on the left and try to aim for that next time you're deciding whether it's a good idea to buy your wardrobe at Sears.
(Seriously, this Sears model on the left looks like he's wearing a diaper, no?)
Not.
Tight.