One thing you may have guessed about me is that I heart booze. I mean, I'm not alcoholic or anything (shut up, I function), but I do enjoy libationary liquids every now and again. However, the liquors I prefer often change with the seasons. For instance, in the fall I like the cream liqueurs, like Baileys or
Amarula
. In the winter I prefer a nice mug of mulled wine, or
glühwein
as the Germans say (who doesn't love an umlaut?). In the spring I turn to mojitos and other herby cocktails. And in the summer I mack on sangria, a lovely concoction of wine, brandy and chilled fruits.
Delish!
So, imagine my shock and horror when I learned this today from the
Washington Post
:
It's illegal to serve sangria in Virginia.
Say what?!
The fruity cocktail of wine and brandy that is a must-have at Spanish restaurants violates a law that forbids mixing wine or beer with spirits. If convicted, a bartender could go to jail for a year.
Not tight. Seriously. That sh*t is exceptionally messed up, or as the Post describes it:
"It's absolutely preposterous," said Robert Hall, the general manager of Jaleo restaurant in Crystal City, which altered its sangria recipe last year after hearing the news about La Tasca [Ed.: the restaurant was fined last year for serving sangria]. "What harm is this causing?"
None, I say! And luckily for those of you living in hell Virginia, you may be able to drink sangria in your neighborhoods sometime soon as apparently Del. Adam Ebbin (D-Alexandria), a.k.a. the Crunkest Virginia State Delegate Ever, has introduced a bill to change the law. He told the Post:
"It just seems to make common sense that government should worry about big issues like transportation and not get too concerned about what people drink."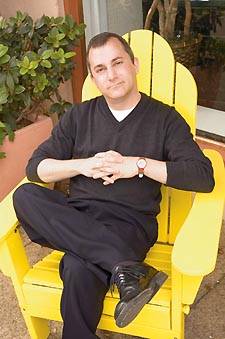 King of Crunk Del. Adam Ebbin (D-Alexandria)
And while I usually refrain from taking public political positions, I feel compelled to support this measure. Not only would it make sangria available in DC's Virginia suburbs, but it would decriminalize any drink that violates the "law" by mixing wine, beer and/or spirits. Honestly, can a place even be considered civilized if you can't enjoy a Kir Royal before (during and after) dinner? It's barbaric!